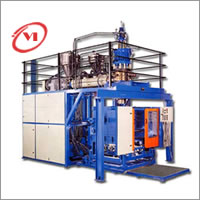 Series

Double Layer
Blow-Moulding Machine
10 ltr. To 200 ltr.
FIFO CO-AXIAL VERTICAL ACCUMULATOR HEADS
INDEPENDENT LAYER THICKNESS CONTROL
OUTER LAYER FROM 50-100% AND INNER LAYER FROM 0-50% OF TOTAL THICKNESS
PROVEN TECHNOLOGY
BEST SUITABLE FOR ICE BOX TYPE CONTAINERS



These are double layered machines, which can use different combinations of raw materials. Ideally suited for 75% reprocessed material and 25% virgin material to get superior strength and quality in hazardous chemical packaging and as well as food packaging. The machine has two extruders connected to FIFO Accumulator head and the accumulated material in ejected in the required ratio.

Advantage : Economical due to usage of recycled material, strong containers due to double layer structure. Eco -friendly due to recycled material.

Cost reduction due to less usage of additive materials where the color additives should not directly come in contact with the material to be packed.

Suitable for ice-box type containers. The inner and outer parts can be moulded in single cycle but with different color combinations.