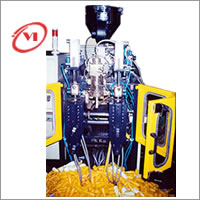 Double Station

continuous parison
Blow-Moulding Machine
100 ml. To 5000 ml.
SINGLE & MULTIPLE HEADS
LOWER OPERATIONAL COST
WIDE RANGE OF MACHINES
SUITABLE FOR MASS PRODUCTION
WIDER PRODUCTION CAPABILITIES WITH COMPLETE PLC CONTROL PROGRAMME


These are continuous type machines with hydraulic clamping and shooting unit. Extruder output is controlled by AC Variable Speed Drives. The compact size of the machine is an advantage for the small units. Suited for the production of pharmaceutical & cosmetic bottles and containers for paint, milk, gum, ink, motor/engine oil etc. Available in single and double station configurations with single and multiple die heads for optimum production of wide range of containers.