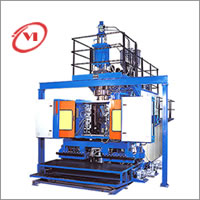 Higher Series

Accumulator
Blow-Moulding Machine
100 ltr. 200 ltr. 500ltr & 1000 ltr.
LONG DURABILITY
LOWER OPERATIONAL COST
VERSATILE BUILT IN FIFO ACCUMULATOR HEAD
QUICK TO LEARN & EASY TO OPERATE SUITABLE FOR MASS PRODUCTION
200 LITRE MACHINE SUITABLE FOR 'L' RING DRUMS
BUILT-IN MULTI-POINT PARISON PROGRAMMER


These are suitable for economical production of different Drums, Carboys, Liners for Tin Containers, petrol tanks IBC's and other technical items. The 200 litre machine is a proven one of producing 200 liter 'L' Ring Barrels from HMHDPE, Motorised 'up & down' and 'to & fro' movements of the clamping unit make it suitable for a wide range of article moulds, Multi-Point Parison control system (optional in 100ltr.) incorporated in the machine gives the cutting edge for quality products.

Jagmohan offers custom made blow moulding machines for the production of 500 and 1000 litre containers. The 1000 litre container with a steel carriage saves transportation charges for the hazardous chemicals. These machines are also suited for manufacturing Hollow Article for amusement parks and water storage and transportation tanks. .